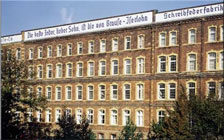 Brause Factory in Iserlohn, Germany
Brause was founded in 1850 in Iserlohn, Germany, a region famous for the quality of its steel and the skill of its craftsmen.
The founders, Carl and Friedrich Wilhelm Brause, and Carl Bergfeld, showed unusual concern for the well being of their employees, providing them with a company medical plan that existed right up to 1986.
Brause initially specialized in manufacturing needles. In 1895, production expanded to bicycle wheel spokes and pen nibs. Up until then, England was the main center of production, but Brause was able to acquire and master the precision required to mass produce pen nibs.
The market penetration of Brause nibs was facilitated by publicity slogans such as "Die beste Feder, lieber Sohn, sind die von Brause Iserlohn." ("The best nibs, dear son, are by Brause Iserlohn.")
Since then, Brause has been crafting a complete set of nibs considered to be one of the best on the market by calligraphers. With over 100 years of manufacturing experience, Brause is one of the rare companies to guarantee an essential quality for its nibs: a subtle balance between relative elasticity for easier writing, and necessary resistance for clear strokes.