We get emails from people wanting to know: who is "Claire Fontaine?" Can they meet her? We're surprised how many people really think Clairefontaine is the name of a real person and the company is named after her. Like cooking has "Betty Crocker," paper has "Claire Fontaine."
Part of the assumption "Claire Fontaine" is a real woman comes from the name, and also the company logo, which features a woman with a water jar.
The exact inspiration for the origin of this woman at the well or wellspring is unknown,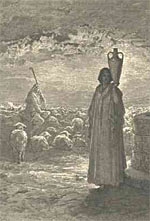 although a member of the founding family believes it has Biblical roots— either Rachel at the well, or the Samaritan woman at Jacob's well. Or, the model may have been an unknown local woman from the home region of the company, the Vosges.
A rough translation of the name to English is "pure water" or "clear water". The source for the Clairefontaine company name is the town where the paper mill is located— Etival-Clairefontaine by the River Meurthe.
Clairefontaine is the name of a famous French paper company. It is also the name of the paper we use for most of our products: notebooks, pads, agendas, fine art paper, sketch books, journals and stationery.